Dime becomes Dime Software
Mid-2020 marked a crucial moment for Dime as we changed our strategy to focus exclusively on the development and distribution of our own products. As a result, we are seeing strong growth in our sales of Dime.Scheduler. To give you an idea, we're halfway through our fiscal year and we've surpassed the results from last year, which already was a record-breaking year.
To highlight our revised strategy, we've decided to rebrand the company. As of today, Dime becomes Dime Software! Dime has been a household name in the Microsoft Dynamics channel for the last decade and Dime Software will continue to build powerful add-ons for the Microsoft Dynamics product suite.
With the updated company name comes a new website. Check out dime-software.com and stay up to date with the latest news of the company and its products, and follow us on our social media channels:
What is the impact of this change?
Besides the name change, not much else changes. The company is still managed by the same people and our existing contracts stay in place. The update, therefore, is simply a rebranding of the company. We have a media kit with instructions on how to use our brands on your websites. Don't forget to check out the media kit for Dime.Scheduler as well.
The primary e-mail addresses of our employees will be updated to the dime-software.com domain. The new e-mail naming convention is 'firstname@dime-software.com'. Other useful e-mail addresses include:
hello@dime-software.com for general questions.
orders@dime-software.com to place your orders.
finance@dime-software.com for inquiries on payments
⚠️ dime@dimenics.com is deprecated and will not be replaced. Redirect your questions to hello@dime-software.com.
⚠️ support@dimenics.com is deprecated and will not be replaced. Support for Dime.Scheduler should go through support@dimescheduler.com.
We will gradually phase out the dimenics.com domain before shutting it down entirely in a few months from now.
New partner zone
The website also comes with a new partner zone. Existing partners have been pre-approved and will be able to access the software, price lists, media kits, and more. We published an article on the website that guides you through the new partner zone. You can check it out by clicking on this link.
We will add more capabilities to the partner zone soon that will make it easier for our partners to work with us. In the following months, you can expect the following additions to the partner zone:
Integrated and streamlined reseller onboarding process
Pricing calculator
Order forms
What's next for Dime Software?
New products
The company's growth and refined strategy have enabled us to increase investments in new products. We have a few products in the pipeline that you will be able to offer to your customers and prospects as part of your Microsoft Dynamics 365 Business Central service offerings. For instance, we aim to have a pilot ready in 2022 to automate and optimize all kinds of work schedules. This will strengthen our position in the scheduling segment of the Microsoft Dynamics ecosystem.
Dime.Scheduler
It goes without saying that we will keep on investing in Dime.Scheduler and take it to the next level so both our partners and customers can enjoy an improved experience of our planning software. In the following months, we will release a number of exciting features:
Appointment containers
Mobile App
PowerApps connector
Dime.Scheduler SDK
Further down the road, we find Dime.Scheduler as a Service, a multi-tenant and cloud-based instance of Dime.Scheduler, allowing you to instantiate a private environment in minutes. To get a complete overview of what's coming up, check out the roadmap for Dime.Scheduler here.
Expansion
It goes without saying that we are optimistic about the company's future. We have set ambitious goals that will benefit customers, partners, and the people who work with us. We will further anchor ourselves in the Microsoft Dynamics channel with new and improved products that can be launched in minutes.
Besides technological investments, we will enter new markets and expand our partner network to offer our products to more organizations. We will hire more people to speed up the go-to-market of products and projects. A brand new training academy, continued investments in the documentation, streamlined reseller processes all will contribute to a smooth and pleasant experience with our company and our products.
We can't wait to see what the future holds for us. Either way, we look forward to continuing our journey along with our inspiring partners and customers!
Back to news
About the author
Hendrik Bulens is Managing Partner at Dime Software and leads the Dime.Scheduler product team. His many years of experience as a consultant and passion for business and technology have helped shape Dime.Scheduler into what it is today and define where it is headed.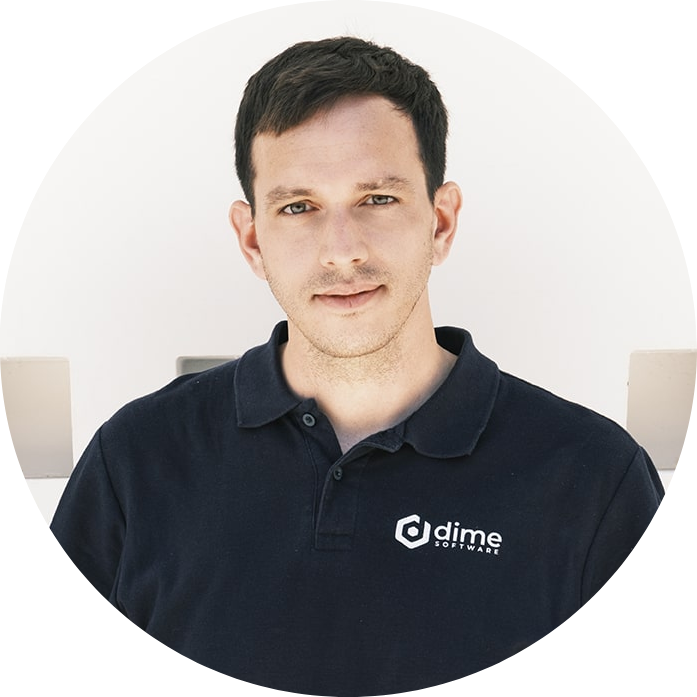 Last modified on